Lyttelton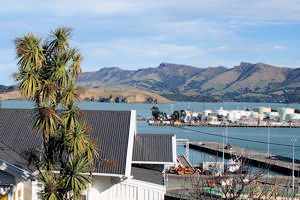 Any day of the week in Lyttelton offers up a slightly offbeat harbour-side character. A tunnel linking Lyttelton to the heart of Christchurch city means a trip to this busy seaport and scenic destination is only a 15-20 minute drive.
A stroll around the town will introduce you to rich maritime history - Lyttelton was the port of call for Canterbury's 'Four Ships' in the mid 1800s, carrying the bulk of Christchurch's first British migrants. There are plenty of references to the town's colonial heritage character in carefully restored buildings, and more colourful, bohemian approaches – evidence of the local artisan community. A visit to the Lyttelton Timeball Station is worth every step up the hill for the Neo-Gothic architecture, views and the fascinating Victorian-era history of the Timeball keeping Greenwich time.
The main street and its surrounds provide you with a quirky coffee and artisan culture by day, fringed by steady seaport activity. By night you'll find music or even poetry in a cafe, bar or the Harbour Light venue. The Wunderbar is an iconic destination for its slightly dark and humourous approach to deco chic, and keep an eye out for posters advertising a subculture of theatre, cabaret and gigs, particularly at the Harbour Lights venue.
A trip to Lyttelton on Saturday morning will find the Farmer's Market in the school grounds buzzing with people enjoying music, and selecting from the area's venison and pork products, cheeses, organic fruits and vegetables, free range eggs, great coffee, Belgian chocolate, fudge, fresh bread and pastry vendors. Get down to the docks early for fresh fish off the boat – this is not available year round, so ask a local. In summer it's difficult to go past the General Store's huge icecreams for next-to-nothing...join the queue of locals and visitors waiting for their iconic treat.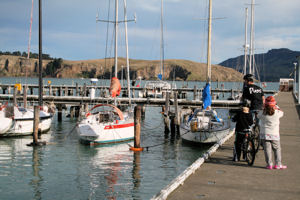 Lesser souls fail to appreciate that while one of New Zealand's busiest commercial seaports Lyttelton and Diamond Harbour have plenty to offer in the way of scenic enjoyment and gentle recreation. A short ferry ride across to Governor's Bay for a stroll will take you to pleasant heritage and swimming spots, and cruise options are available for the harbour, across to Quail Island and beyond to Akaroa.
Featured Lyttelton Events
Markets and Fairs Events
London Street, Lyttelton, Christchurch District

Today to Saturday 19 June 2021
Our local growers and producers sell their fresh fruit and vegetables, free-range eggs, bread, meat, fish, cheese, herbs and plants at the market every week. Many of our regular vendors are actually from Lyttelton...
More...
---
Folk Events
The Loons, Lyttelton, Christchurch District

Wednesday 3 March 2021
His command of the complex and intimate rhythms of Flamenco is astonishing – Ann Hunt Dominion Post My Secret Life. Hello. My name is Ian Sinclair. You may know me as a roving reporter with the dream TV job: and a...
More...
---
Film Events
The Loons, Lyttelton, Christchurch District

Sunday 7 March 2021
Let's do the time warp again! The Rocky Horror Picture Show screening down at the Loons on our 150-inch screen, so get dressed up and sing along to this cult classic! Popcorn and candy bar available on-site for...
More...
---
Covers, Tribute Bands Events
Wunderbar, Lyttelton, Christchurch District

Saturday 18 September 2021
Direct from Melbourne. Touring New Zealand 2021 (2020 Tour Postponed) BLOOM sings The Stevie Nicks Linda Ronstadt and Carole King Songbook Wunderbar, Saturday 18th September 2021 GA $39 Doors 8pm - Show starts...
More...
---
Electronica Events
Wunderbar, Lyttelton, Christchurch District

Friday 5 March 2021
Back home from Berlin, Celebrating the release of his third electronic EP 'With Them, We're Free' Supported by Yvy Maraey, who's also in NZ for an extended stay, bringing soulful tunes before the dance party begins...
More...
---

Tour Christchurch

Tour Christchurch Area
Ferry Motel
- Motel.
Ferry Motel, Christchurch, is located opposite the beautiful, historic, Edmonds Factory Garden, which has a children's...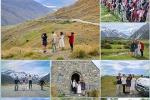 1 day private tour from Christchurch to Queenstown via Mt.Cook
- Family Friendly - Fairlie.
Starting from $380.00 per person
.
" We do it your way " There will be no rushing around on these trips , just time for you to see things that you have...