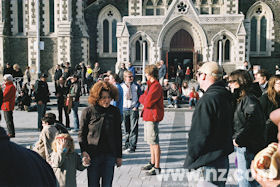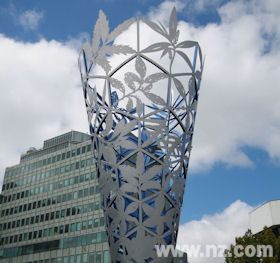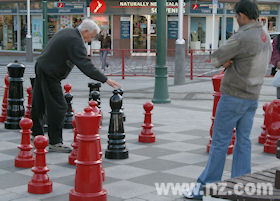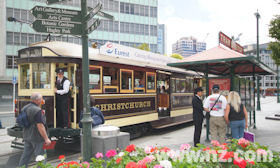 Cathedral Square
Christchurch is in recovery following a series of earthquakes from September 4, 2010. The most damaging earthquake was on February 22, 2011; when more than 160 people lost their lives. The central business district (including Cathedral Square) remains closed as a result of many weakened buildings that are yet to be demolished.
The Anglican Christ Church Cathedral in the square is (like many other stone built churches in Christchurch) a post-earthquake shell.
Cathedral Square is regarded as the very centre of Christchurch, attached to the historic Worcester Boulevard, the metropolis Colombo St, and sits close to the meandering Avon River. The images and text below show how it was before the earthquakes.
A visit to the Anglican Cathedral was free, while for a small donation you could climb the 133 steps of the Cathedral's North tower, which formerly dominated the skies of Christchurch.
The Square formed the perfect space for public art. Sitting right at the centre is the statue of John Robert Godley, the founder of Christchurch and Canterbury. Recently, to commemorate the new millennium and its coincidence with the 150th Anniversary of this Foundation, an 18m high sculpture was erected in the square. Forty-two leaf patterns featuring different native plants make up the Chalice, designed by prominent New Zealand artist Neil Dawson.
Food is always close at hand in Cathedral Square, whether your favoured choice is ethnic fast food, sit-down vegetarian, or coffee and a bagel, food stalls are open daily, along with a variety of cafes, restaurants and bars.
Meet new people during a game of chess, or get useful advice at the Visitor Information Network housed in the Old Post Office.
Make the most of the daily market in the Square. You will find everything from Possum Fur garments, to affordable backpacker fashions and greenstone (pounamu). There are bargains for the traveller to be found here, but don't be afraid to check with the vendor that a product is made in New Zealand.
You could catch a tram from Cathedral Junction, or the Square itself. These historic trams will take you on a loop circuit of the best central city attractions. Your ticket allows you to hop on-and-off at different stops over two consecutive days. The romantic-at-heart can dine aboard in the evening.
The central business district is fenced off. You cannot currently visit Cathedral Square.
Cathedral Square Street View

Tour Christchurch

Tour Christchurch Area