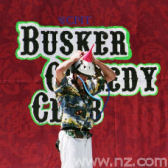 World Buskers Festival
Christchurch's annual World Buskers Festival is its most loved festival. Chaos and pandemonium draw crowds all over the CBD, as 40 artists from around the world perform for the general public.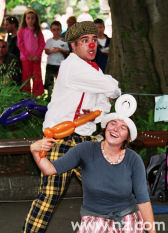 From 11 till 7 artists from Canada, USA, Brazil, Portugal, Japan, Italy, Netherlands, UK, Australia and, of course, New Zealand, take to the streets, the City Mall, Cathedral Square, the Arts Centre, and the Botanic Gardens - family oriented hilarity in famous locations in the heart of the city.
Later, the Fire Show in Cathedral Square, and comedy shows of the more adult type are shown in The Loaded Hog pub, the Christchurch Casino, and the Comedy Club stage in the Arts Centre.
Bring your sense of humour, and if you don't have one, you will by the end of the show! Beware the performers, as they ask unsuspecting people to be volunteers on their show. Remember your loose change, as these performers are there without pay, and make a living from the donations you give them.
All in all, get ready for a fun filled festival of organised madness and mayhem in the lovely summer and surroundings of the Garden City.

Tour Christchurch

Tour Christchurch Area
Memorial holiday home
- Villa.
Situated in Christchurch, 5 km from Victoria Street and 5 km from Rugby League Park, Memorial holiday home offers a...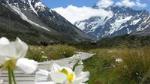 Christchurch to Queenstown via Mount Cook One-Way Tour
- Day Tour - Christchurch.
Starting from $303.00 per person
.
Experience the beauty and grandeur of the Southern Alps on a sightseeing day tour from Christchurch to Queenstown via...